Reviews of the Ultimate Shoe Repairer
Reviews of the Ultimate Shoe Repairer
Want to tell Michael what you think of his work? Leave a message here for the Ultimate Crows Nest Shoe Repairer!
A note from Michael:
Thank you all for your kind reviews and well-wishes, they are much appreciated.
A number of customers have left reviews on Google Reviews and this is just wonderful, thank you again.
---

December 2019:
Michael is a true craftsman and a gentleman. He repaired three pairs of shoes for me, which were unwearable for various reasons. The repairs were not straightforward but his knowledge and attention to detailed fixed all the fit issues and I'm now able to comfortably wear my shoes again. Michael, thank you very so much.
Maria
---
April 2019:
Hi Michael, I wanted to let you know how absolutely thrilled I am with your craftsmanship on my favorite DF boots. I have had them for 15 years & wear them continuously in Winter. I took them to another shoe repair place ... what a huge disappointment - the leather split, the sole came apart, within a year, it was an appauling job & not cheap! Michael was able to bring them back to life & just like brand new. As the name suggest - Michael, you are the ULIMATE cobbler. A sincere heartfelt THANKYOU,
Janet
---
February 2018:
My missus had one of her glass ornaments fall off from her wedding shoe. She was so upset about it. So we went to the nearest local shoe repairer man who told us its impossible to fix. Tried another one called mister minit and he too told us it can't be done because it's just too hard. Feeling defeated i searched on google for the best cobblers and thats where i found the ultimate cobbler in crows nest.
With such fantastic reviews, me and the missus decided to drive 40mins to crows nest to meet the ultimate cobbler. Was very hard to find him, we found another shoe repairer instead in crows nest, showed him the wedding shoe and he just kept shaking his head and told us the job is too difficult for him and he declined the job. Feeling very frustrated, we then managed to find Michael the ultimate cobbler.
Michael was a godsend. He is the real deal. He took on the job and even managed to sew back the glass ornament when other repairers told me that it's too difficult and can't be repaired. God bless him. Can't praise him enough. He really is the ultimate cobbler, i believe he is one of the very few true cobblers left in Sydney. His skills and craftsmanship is top-notch and second to none. Talented and has a vast knowledge in his profession. Very funny person and a gentleman as well.
Thanks Michael for repairing the wedding shoe. Was an honour. My missus is extremely happy and grateful. Will definitely come back again and i highly recommend you to anyone who wants service from a real cobbler. 5 stars
David H
---
September 2017:
The Ultimate Cobbler - Michael is the absolute best! He is a true craftsman and just phenomenal!
Last year I purchased an expensive leather bag online from Europe which in colour turned out to be dramatically different to what I had expected. To add to these woes the colour was uneven in places. I took this bag to Michael to see if he could better match this to what I had originally seen and wanted, knowing this would be an extremely difficult job. He took the challenge on and I couldn't have hoped for a better outcome. His work and expertise reflected what a true professional and perfectionist that he is.
I am forever grateful and cannot recommend Michael highly enough. He is at the absolute top of his field.
I take all my repairs to The Ultimate Cobbler now.
Thank you so very much Michael.
Maureen R
---
August 2017:
I recently went to London on a family requirement. My son who has been there for 4 years was given a leather soft carry bag for his work purposes. He used it daily for the past 4 years lugging his laptop etc. It was packed to the brim so much so I was wondering when the zip may snap. This bag was given to him by his aunty as a welcome gift for him to use while travelling to and fro from work. It was a very sentimental gift.
3 weeks ago he got his tie stuck in the zip as he was rushing to work. He pulled the tie out and the zip teeth was pulled off the zipper.
He was devastated but he still used the bag due to his attachment with it.
London weather is not so predictable and his contents got wet. He had to get another bag to replace the zip broken bag
I took the bag to the local cobbler and he said its a difficult case as the stitching was done in a complex way. He gave me an address to go to a bag repair shop. The second owner said its a proper tradesman job and its not possible.
Finally I google in australia and found Mikes address.
When I saw the logo of the man sitting on the stool and the fact that the shop was named Ultimate - I knew i found the person who can save the bag.
I brought it back to sydney and drove from Rouse Hill to Crows Nest to see the miracle man.
The moment you enter the shop you know that the bag will be saved. It was so warming to see mike attend to the bag as a doctor examines his/her patient. It took some time but finally Mike said it will take some time but I can do my best. That was what i wanted to hear.
I left the shop with the famous cobbler stub receipt which i Whatsapp to my son
i got a call 10 days later from Mike saying its Done.
I picked it up today and send the photos to my son who was so so pleased.
Thank you very much Mike -the bag had to travel 24 hrs to go to Ultimate cobbler on earth to repair it.
"Stay Healthy and the wealth can follow later" - Mikes final departing advice to me warm regards
Prem
---
July 2017:
Wow! The famous Ultimate Cobbler, Michael, can transform your old shoes, handbags, suitcases into new! He is just magic!
Merinda H-C
---
August 2016:
My son loved his RM Williams riding boots so much he wore them for without a break for 15 months, but unfortunately failed to show them any love. The soles had holes, the leather was badly worn in some areas and the leather was dry and uncared for.
They were originally returned to RM Williams, quoted $240 to re-do the sole and replenish the leather. I was advised against this and was recommended to visit Michael.
Wow what a find. Michael did an absolutely amazing job and not only re-soled the boots, but brought them back to life. I was in two minds whether to send the boots to my son in New York or keep them for myself. Fact that I am a 11.5 and my son is a 10.5 probably helped me make my decision.
My son is very happy with his boots.
Thank you to Michael for a great job. We will certainly use his services again if and when required.
Cheers.
Simon H.

---
June 2016:
The Ultimate Cobbler came up from Google searches as a highly rated shoe repair shop, and I decided to check it out after some disappointing results at other high-visibility repair shops in Sydney CBD. Previous repairs I had done had low quality replacement soles, or very poor workmanship (e.g. frequently finding glue all over the leather of my shoes, heel dressing unevenly applied, etc.)
Michael did a perfect repair on a 6-year old pair of English Goodyear-Welted shoes that was getting a hole in the sole, with a level of craftsmanship that I have not seen anywhere else. He gave me the exact right fit solution (insisting that I only needed to do the front part rather than entire sole), sourced high quality replacement parts, and charged a very reasonable price for his work.
I highly recommend consulting with Michael for any shoe repair work you are thinking of, and I will be dropping by again to have all my other shoes fixed!
Ghin.
---
April 2016:
Michael is an amazing craftsman. He fixed my Alexander Wang leather bag to it's original gorgeous condition. Thank you so much Michael!
Effie
---
March 2016:
I have been using Michael's service for about 6 years now. He has restored many of my favourite leather shoes to new and the quality has been superb. The most recent restoration was a vintage Chanel flap bag with very soft calf leather. It had some wear and scuffs that he methodically renewed with diligent care. No dyes or touch-up techniques here. Good, patient attention to detail in the traditional ways. The result was amazing with a bag that looked brand new but had the "patina" of an obvious classic, vintage piece. Michael knows high-end products and the value of the bag so he took his time. He wanted to work on it with the passion and care it deserved without time constraints. The end result was testament to that. If you have any high quality leather products that need repair or restoration, Michael is the expert.
Raoul Pope
---
February 2016:
I have been taking my shoes to be fixed by this amazing cobbler for many years. Just recently I took 3 pairs of Russell and Bromley shoes to him. I haven't been able to wear them for a while due to the soles and heels being a little worse for wear. He fixed them up so well I now have 3 pairs or new shoes!!! Thank you so much! I cannot recommend this cobbler more highly!
Sally Nagel
---
November 2015:
Thank you Michael for another job well done...you are indeed the ultimate cobbler. Highly recommended.
Paul
---
May 2015:
Michael is an absolute star. Anything I have taken to him has always come back to me impeccably done. Recently I had a pair of suede leather 2-tone boots. Sadly the black had badly discoloured all the beige panels and to be honest i wasn't sure anything could be done. But for an incredibly reasonable price, Michael brought them back to new. I now have a pair of suede boots that look a million bucks. Thank you Michael for your amazing service...and always with a smile!!
Emily Boyd
---
December 2014:
This man is a miracle worker. I took a pair of terribly worn RM boots to him in the worst condition, after being told by 2 other shoe repairers they were beyond repair. After 3 days with Michael he had done the most incredible job with them, repairing them to a standard far higher than I could have ever expected as well as fixing damage I hadn't even brought up with him when I took them in. I can't recommend him enough. Nothing he can't do!
Jenn
---
November 2014:
I got my shoes and the zipper of my handbag replaced, and he did such an amazing job.
I live in Wattle Grove and came all the way to his store. It was well worth the trip, as other shops told me to just throw away my boots, but they look brand new now.
Thanks Michael for the friendly, professional service.
Sarah.
---
July 2014:
THANK YOU for the great work you have done on my treasured shoes. Your craftsmanship is of the highest quality I have ever seen. I appreciate how you take the time to find the best solution. I have recommended you to lots of friends and will continue to sing your praises as you truly are the best! Susannah.
---
July 2014:
Hi Michael,
Thanks for doing a fantastic "salvage job" on my favourite pair of Italian leather sneakers. I say "salvage" as that is exactly what you did after I had experienced a "botched" resoling job from a prior, insensitive, repairer. Truly you are the "Ultimate" and I certainly recommend you without reservation to those seeking such perfection.
Alan.
---
April 2014:
I left Michael a pair of shoes after being to 3 different shoe repairers. The shoes had been worn once, and all had instantly refused to attempt to remove the stain because of the type of leather - all said 'impossible'. Michael said he could not promise me it could be done, but would do his best. Incredible - they are like new.
(pictures provided)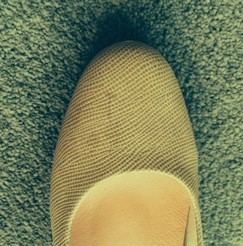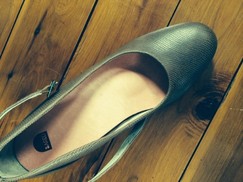 ---
March 2014:
Fantastic cobbler - re-soled some Goodyear Welted leather shoes better than the original quality, as well as a brilliant job reconditioning some worn high heels. Very highly recommended! Fin.
---
December 2012:
Ultimate cobbler? Yes he certainly is. A perfectionist. Nothing is too much trouible. A "gem" find in this day and age! - Donald
---
December 2012:
I came across Michael's great little shop in Crows Nest about 2 years ago and he has been taking care of my partner's and my own shoes ever since. His craftsmanship is extraordinary, you can clearly see that he is a master of what he is doing after a couple of minutes of talking to him. I have been following his advice ever since coming to his shop and he has always delivered first class work. My partner had a pair of Duckfeet that she loved, however after nearly a decade it was beginning to fall apart. Michael restored them so perfectly that they are now as good as new. All of this comes at a very reasonable price, and although I now need to travel a bit farther I know where I am going when I need a good cobbler. Highly recommended! - Sascha
---
November 2011:
I came to Michael with a beautiful pair of Italian suede loafers in a very light brown that had dirt all over them. Michael brought them back to life, and now they look like new. Such a small investment for such a large return. Not only is Michael a talented cobbler, he also is a wonderful person. I not only recommend him, I now personally bring my family and friends shoes to him.
---
October 2010:
To Michael, The Ultimate Cobbler. Thankyou for the expert craftsman job you did in repairing and restoring my leather binocular case which is more than sixty years old. It has taken me more than six months to find a craftsman prepared to take the restoration job on which in the opinion of many was beyond repair. I think the photographs show the high standard of work you did and i will not hesitate to recommend your skills to anyone. Kind Regards.
---
September 2010:
I heard about this new business recently and thought i would give it a try due to some bad experiences with shoe repairers in the past. And after i met the owner and i found out that he could repair some of my items that other shoe repairers had rejected as they required detailed leather work, i was so pleased. However, my greatest joy came when i picked up my shoes and handbag and seeing the amazing job that had been done; they looked as good as new! I would truely recommend The Ultimate Cobbler to anyone because not only is the job done well, the owner is great to have a chat with.
---
August 2010:
Had a beautiful pair of boots that had been worn to death with the sole gone, leather worn off the front and back. After going to two shoe repairers who said they couldn't repair the boots and I should just throw out, Michael was able to repair the boots to as good as new. Thanks.
---
July 2010:
i just picked up my shoes and they look BETTER than when i first bought them. i wanted to keep them because they are comfortable but now the soles are MORE comfortable than they were at first and they look sharper too. well worth the money. thanks michael, i'll be back. - Paul
---
Want to have a similarly satisfying experience? Have your shoes or bags or leather repaired and restored by the Ultimate Sydney Shoe Repair Specialist!
Then please leave us a review - Google My Business Review